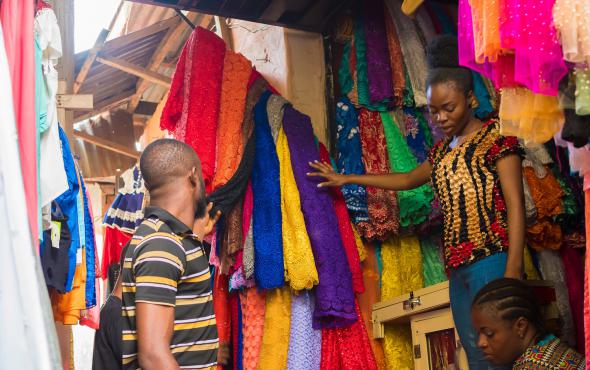 A return during difficult times
Ms Diop returned to Senegal with her two children, just before the coronavirus crisis reached Europe and Africa.
Ms Diop lived in Belgium for seven years, where she gave birth to her two children. Her decision to return to Senegal followed a final negative decision on her asylum application. She is a strong woman who came to IOM Belgium in the hope of returning to her country and providing stability for her two young children.
Fabric and accessories store
Upon her return, Ms Diop was housed by her sister, who took in the family for the first few weeks while they waited for their situation to stabilise. Thanks to reintegration assistance, she was quickly able to rent a space in the town centre to sell fabrics, handbags, shoes and various accessories.
Ms Diop left Belgium just before the coronavirus crisis began. Despite the pandemic that also affected Senegal, IOM Dakar was able to help her to implement her reintegration project. A follow-up was carried out a few months later and it turned out that business was not flourishing due to the pandemic and the health measures. IOM is therefore examining the possibility for additional support. Ms Diop still has her store and is running her business, and hopes that the coronavirus crisis will soon be over.
A return not always well received
Ms Diop's children went back to school on their return. They are learning Wolof, one of Senegal's official languages and the most widely spoken among the different groups, "The children have adapted better than I have. I speak to them in French and they answer me in Wolof. They say to me, Mum, we are in Senegal, we speak Wolof. But I keep talking to them in French."

Source: IOM