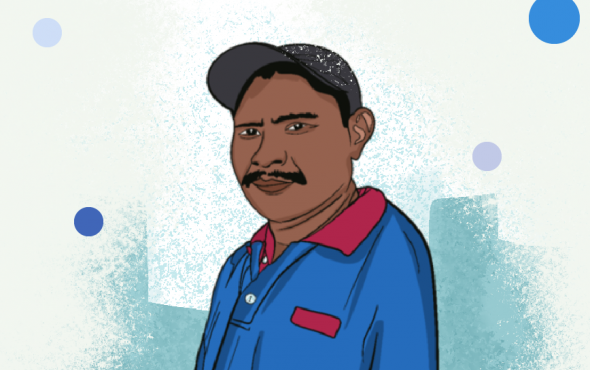 Rebuilding a future
Mr. José was among the 77 Salvadoran returning by a charter flight in November 2020. He quickly regained his bearings and found a job as a mason.
After returning from his first job of the day and before joining a virtual training for entrepreneurship organized by the IOM, Mr. José first of all checks his phone to make sure that he has no missed calls that might have offered him a job opportunity. Once this is done, he then joins the meeting and listens carefully to the IOM trainers. After some hours, he puts into practice what he learned from the training.
Leaving his loved ones
Just about four months ago, he did not think he would walk El Salvador's streets carrying his tools again. At the beginning of the year 2020, he decided to leave for Belgium in order to apply for asylum and to find a job that would enable him to offer a better life to his family.
Hence, he left El Salvador with his life savings—money he got from selling most of his belongings—and a lump in his throat because he had to leave his loved ones behind. But now that he is back, there are less family members around the dining table and the memory of the lost ones still hurts: "Two weeks after my departure, my father died. Two days later my nephew passed too and my sister-in-law followed two days after him. These three heavy blows within the same month were extremely painful,, and I was away and couldn't do anything."
Despite the pain, Mr. José waited in a Fedasil reception center for a work permit: "I entered the country seeking for asylum and I got information about a place where accommodation and food were given to migrants waiting for an answer to their asylum application. As time went by, I was fine, but my family (in El Salvador) wasn't."
Voluntary return charter flight
Faced with this situation, he decided to find out how he could return to El Salvador. In the reception center, he received advice and information on the voluntary return program: "When I learned about the program, I decided to apply for a voluntary return and they asked me if I was sure. I told them yes, because I wasn't doing much, and I knew that here (in El Salvador) I could start over my life because I have my craft."
That way, the program supported him with a safe and dignified return and the flight back home also respected all the measures put in place to protect passengers against Covid-19. In the morning of November 12th 2020, a charter flight from Belgium landed in El Salvador: José was among the 77 Salvadoran who returned home voluntarily and willing to start anew.
Construction skills
Upon arrival in El Salvador, the IOM continued the reintegration process through a personalized follow up, organizing training sessions and supporting him with a reintegration plan to finance his business ideas. With great qualities and knowledge in construction, electricity and plumbing, El Salvador has regained an excellent citizen. Additionally, life smiled again at Mr. José when barely two days after his return, he secured his first job in masonry.
Since then, Mr. José has joined the IOM training sessions on psychosocial support and entrepreneurship and has bought new tools thanks to the reintegration support that he received from the Belgian voluntary return program. He has also continued learning and searching for ways to innovate and move forward in life. Mr. José now has new goals: "I have the hope of going back to Belgium as a tourist and meet with my friends, but in the meantime, I have the dream of buying a car to carry my tools and keep working safely."
Source: IOM