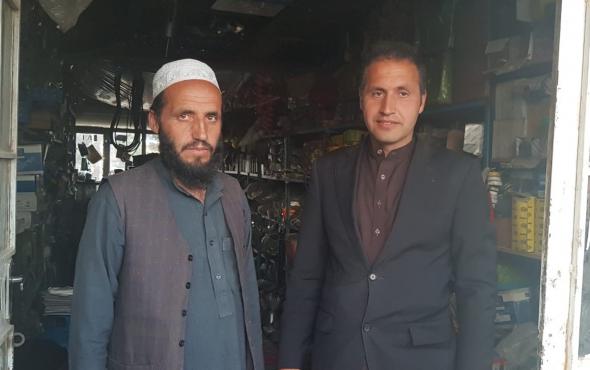 Career change
Safiullah (on the right) came to Belgium with a good academic and professional background. Then the pandemic struck, he was missing his family and his situation was not improving... So he decided to return to Afghanistan.
Safiullah came to Belgium a few years ago to apply for asylum, hoping to provide a better future for his family in Afghanistan. Graduated from the University of Kabul with a master in Persian literature and teacher of Dari, he worked for several years in Afghanistan as a director of a radio and television channel. At some point, political tensions emerged and stopped him from working. That's when he decided to leave the country.
Hit by the pandemic
While Safiullah was having a hard time finding a job in Belgium, the Covid-19 broke out worldwide and his family was severely touched by the consequences of the pandemic. He had to return as soon as possible to his wife and his two daughters.
He prepared his return in the Fedasil reception centre of Poelkapelle, with the help of a Fedasil counsellor and a reintegration counsellor of the IOM Belgium & Luxembourg.
New career
Safiullah's priority was to quickly reacquaint himself and find work. Back in Afghanistan in the fall of 2020, he could directly join the training in micro-business organised by the IOM Kabul. This was a very helpful period of time for him since he could share his experience with other Afghans who had recently left Belgium.
As he could no longer work as a radio and TV director, he decided to form a partnership with a distant relative. For this purpose, he used the reintegration support. His business partner (pictured left) is the owner of a garage specialised in the sale as well as in the oil and battery change for cars in a lively district of Kabul.
After a first month of learning the tricks of the trade with his partner, Safiullah is still looking for a self-employed job but he faces the future with more serenity and he has no regrets about reuniting with his family.
Source: IOM
More information on IOM's offer in terms of reintegration support.