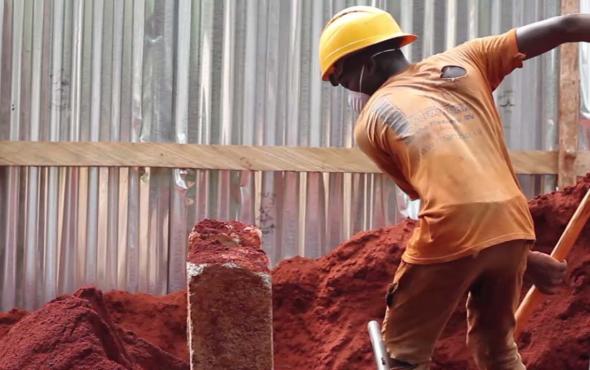 Manufacturing and selling bricks
Dieudonné completed his studies in Belgium. But without financial resources and without a job, he decided to return to Togo where he started his own brickworks.
Dieudonné came to Belgium in 2008 on a student visa and subsequently graduated in agronomics. His father, who was financing his studies, passed away during his final year, leaving him without financial resources. Unable to find paid work on finishing his studies and no longer having a residence permit, he decided to return to Togo to take care of his mother and young brothers. He contacted Solidarité Socialiste, a Fedasil partner, for a voluntary return.
Financing for a brickworks
Dieudonné returned to Togo in 2014. His father had left him a small plot of agricultural land about thirty kilometres from Lomé. The Togolese earth is a red earth, rich in clay which is used to manufacture very strong bricks.
On the advice of the IOM, he decided to use the funds allocated for reintegration to invest in the equipment that would enable him to open a small brickworks on his land. He was therefore able to purchase shovels, forks, riddles, moulds, wheelbarrows, safety equipment and the equipment to move back into his house. He quickly took on three apprentices to train them in brickmaking. His apprentices receive a salary as well as board and lodging.
Moving towards a mobile business
Six months later, he decided to launch a travelling business. Rather than transporting the bricks produced, he goes and produces them directly on the land where the new house is to be built or renovated, while keeping a brick store at home.
Ten years after his return, business is good for Dieudonné. In 2016, he employed six apprentices and two full time employees. He was proud because the first two apprentices would soon finish their training and would be able to return to their regions of origin, where they could themselves train other people in brickmaking.
Source: IOM