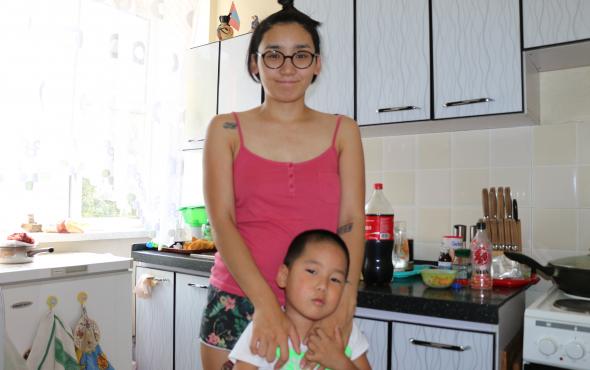 Manager and young mother
Sanchir returned to Mongolia with her two-year-old son and pregnant with a second child. Thanks to her family and with the help of the IOM, she could settle and open her own grocery store.
Single mother and pregnant
Sanchir arrived from Mongolia to Belgium in 2010 in order to join her fiancé, whom she had a baby boy with in 2012. She tried to regularise her situation in Belgium but the proceedings instituted led to nothing.
She usually managed to find a job but she was in a precarious situation. In 2015, while she was expecting her second child, her fiancé left her. Therefore, she decided to return to Mongolia.
Her asylum procedure being over for more than 30 days, she had in principle no access to the European Fund to develop a micro-business. Given the fact that she was pregnant and a single mother, Fedasil agreed to allocate an additional fund for her reintegration project.
A grocery store in partnership with her family
Sanchir prepared her reintegration in Belgium with the IOM. Her idea: to open a grocery store in Ulaanbaatar in partnership with her uncle. Once she was back in Mongolia, she moved in, pregnant and with her two-year-old son, with her grandfather just long enough to find an accommodation and until she gave birth.
With the help of the IOM and her family, Sanchir could quickly implement her micro-business project. Her uncle had been instantly attracted by her idea of partnership in order to open a new grocery store. He rented a place, bought furniture and decorations and Sanchir was then able to invest in products for her store.
Balance between family and work
Sanchir states that to work with her family has many benefits. She succeeds in having a good balance between her position as a manager and her role as a mother. A year and a half after she returned, she is a bit nostalgic when she talks about Belgium but she remains convinced that she did the right thing by returning to Mongolia. Her children are fulfilled and she is happy to be the manager of her own business.
Source: IOM